Click on a thumbnail for a larger image and details.
Kimono Cloth Bags
These elegant silk bags are designed individually using fragments of vintage Japanese kimono cloth that is purchased from a store in Washington State. As many as four different fabrics are used in each bag making a unique creation embellished with vintage buttons or pins.
Small Kimono Cloth Bags
Small bags with a cross-over strap are perfect when you need to carry only a comb and glasses or some small change. Japanese kimono cloth, dupioni silk, vintage pins and stick pins make there a wonderful wardrobe addition.
Eyepillows
Relax your spirit with an eyepillow made of dupioni silk topped with an appliqued strip of Japanese kimono cloth. Flax seeds give the pillow weight and lavender provides a soothing scent.
Jewelry Pouches
These sumptuous brocade silk pouches are perfect as an evening clutch or as a jewelry carrier. Ribbon closures and unusual buttons and pins make these unique.
Belts
These belts are made of French silk ribbons. They are composed of 2 different but coordinating ribbons sewn back to back making them reversible for varied uses. They will add pizazz to a dress as well as a pair of jeans. The belts measure 1 and 7/8 inches wide. They are 43" long and the buckles measure 3" x 2.5".
Sashes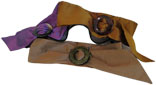 These lovely sashes are made of dupioni silk, and they are finished with a Mother-of-Pearl buckle. Dress up or dress down with this sash. Most sashes are 37.5" long and 4" wide.
Little Black Bags
These "little black bags" bring a touch of elegance to a special night out. One of a kind construction uses antique embellishments against vintage Japanese kimono cloth or velvet to weave the magic.